Sweating out the summer heat with no fun and physical rigour? The city has a lot in store for you
besides the clichéd walks to Marina.
1. Trampoline Parks in the city
If the summer sun exhausts you, burns your skin and you're forced to snug with boredom in your couch,
the city offers you trampoline parks just a bunny hop away. Unleashed and uninhibited folks are
seen jumping around and popping up and down the trampoline beds opened for both children
and adults now. So wear your wings and fly high this summer at the nearest indoor park.
2. Surfing

Glide along the most beautiful and popular shores in the country with Surfing points at Covelong. The
Covelong Point Social Surf School offers surfing lessons and encourages the adventurous
daredevils to taste the thrill by the shore. With no age bars and meticulous lessons taken with
care, Surfing is the perfect way to let the adrenaline in.
3. Laser Tag
If you're too lazy to take up lessons and just wish to pep up and take away your weekday fatigue, Lazer
Tag is for you. Take part in this multi-player activity and let your senses be simulated by the
ambience and setting of a battle field and live your fantasies with fun and renewed energy.
4. Paintball
Big teams and groups looking for a fun time? Paintball is the one for you. It involves strategy,
teamwork, excitement and colours! Get geared up, wear your safety equipments, and
get ready to fight your opponents with guns loaded with colours and all you have to do
is arm yourself and Shoot!
5. Rock climbing

For all the outdoorsy adventurers out there, crave no more! The entire mountain bows down
for you. The Rock climbing indoor activities are open for all. Moreover, they not only offer the
joy and satisfaction of climbing along with its thrill, it also ensures your safety with belts and
leashes on you. The exhilarating experience is widened with ample scope for exploring different
routes to the finishing point on the 30 foot high wall. It also strengthens your muscles in the
process. There's no way you'd not try this. Check them out at Fit Rock Arena.
6. Soap football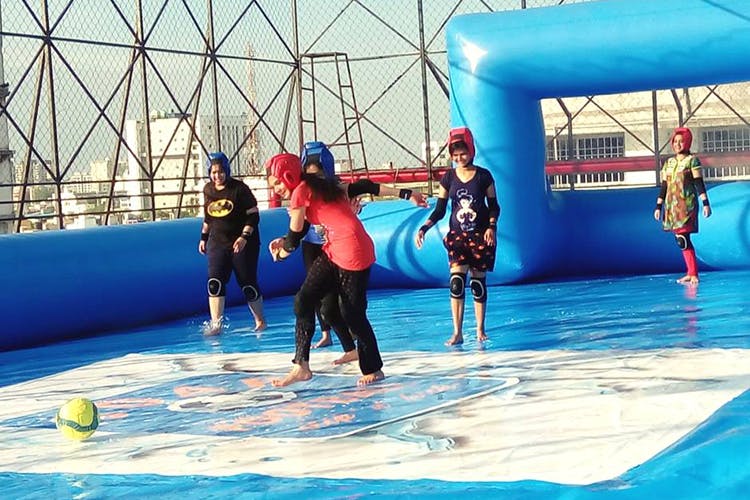 A blend of traditional football, soapy bed and water wrestling… sounds crazy right? If you're looking for
a place to fall, fight and have tons of fun, soap football at Nungumbakkam offers you the space.With
ample competitive spirit and safety guidelines, soap football is the new sport of the recent years.